FOREIGN BRIDE DATING SITE REVIEWS - ASIAN, LATIN AND RUSSIAN DATING
We are offering a new service here at Singles List, providing reviews of foreign bride and international dating sites. We're going to try to make these reviews as honest and frank as we can, giving you the highlights and the low lights, if any, on the most popular international dating sites.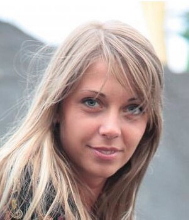 We already know there's great interest in men worldwide on locating and dating single women outside their countries. They're looking in Eastern European countries set such as the Ukraine, Russia, Belarus, and Latvia just to name a few.
There is also great interest in Asian countries such as the Philippines, China, and Thailand. Many men are interested in Latin American women from countries such as Colombia, Costa Rica, Peru and Brazil. Our aim is to offer reviews of dating sites that cater to men looking for women in all these different locations around the world. Keep checking back because were going to be adding reviews just as quickly as we can get them done.
Please bookmark this page as we will put the newest reviews here. (
Note: external links open in a new window so you can return to this page.)
---
A Foreign Affair Dating Review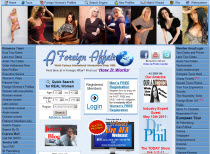 Spanning the globe and connecting us to nearly every continent, Phoenix, Arizona based A Foreign Affair is one of the originals (as you can see by from its ancient website), and offers more services than most other internet dating company's such as impressive romance tours to Asian countries, Eastern European countries, and Latin American countries. They also have translators to help with the calls to ladies of your choice,and conference calls discussing the process of finding and meeting a foreign bride. And these guys know what they're talking about since the three principles of the company are all married to foreign women. It is not the cheapest - but is proven reliable and has very reasonable pricing, especially for the sheer volume of sexy profiles you will gain access to! Search by profession or country on this site and get into real details - sooner or later this site has so many options, you will find her! Read the full review
---
AnastasiaDate Russian Brides Site Summary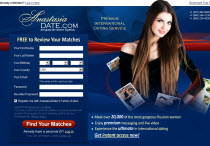 Specializing in Russian and Eastern European women of astonishingly high quality, AnastasiaDate is one of the premiere sites offering such services. They offer such a wide array of beautiful (and sometimes very educated) women and are so sure of themselves that they will let you even peruse through thousands of profiles before you paying a cent (initiall signup is free)! Besides a clean website that is updated regularly, they offer a few convenient services like three-way translations with a friendly interpreter so that you could jumpstart thing's fast! Prices could be considered high since they work on a credit basis and you have to purchase credits to send or read letters from the ladies they feature on their site. that could get expensive if you decide you want to contact several ladies. Nevertheless, AnastasiaDate does have some of the most beautiful women you'll ever see on their site. Read the full review
---
Amolatina Dating Review Summary - Latin American Women Specialty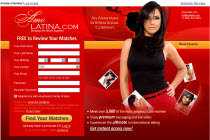 There's a special kind of woman that comes from the mystical high mountains and tropical beaches of South America and Central America and Amolatina concentrates on helping you find her! Well-designed and secure, this easy-to-navigate site with thousands of pictures has a great reputation for constantly adding beautiful Latin American profiles. A sister site to AnastasiaDate, Amolatina works off a credits basis which means you have to purchase credits to make any contact with a Latin American lady; that is to send or read letters from these ladies. that can get expensive if you want to contact a lot of ladies. Amolatina is also known for offering fantastic tours to Brazil and Colombia. Making it easier than ever before to connect with your Latin sweetheart or passionate hottie, Amolatina ranks as one of the finer sites for this spicy specialty. Read the full review
---
Elena's models Site Summary - Beautiful Ukrainian and Russian Women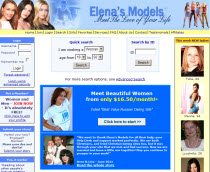 There is something exhilarating about a Russian or Eastern European accent when seasoned atop English words spoken by a sexy woman whispering her secret desires… Ahh, we've all had fantasies and imagined how much fun making peace could be but where is a secure site that adds hundreds of girls weekly? Since 1999, Elena's Models has been that perfect site allowing you to choose 50 contacts with unlimited emails for as little as $16.50 a month (1 year subscription)! While seemingly a little pricey Elena's Models is actually an excellent value that may end up being far cheaper than some of the others. They have been around for awhile by offering good services like translations, or for their unique web searches. Read the full review
---
Cherry Blossoms Dating Site Review - Asia Pacific Women Specialty - Site Summary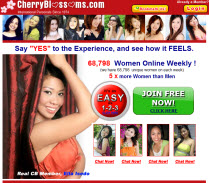 Everyone loves faraway islands and women from around the Pacific and Asia with their natural ways and desire to please… Reasonably priced and specializing in exotic girls from the Philippines, Cherry Blossoms is one of the oldest in the business - starting out way before the internet existed! Access is considered very safe and free until you want to contact a woman. The cost is based on a subscription which runs from $9.99 a month (1 year) to $29.95 for just one month. The database is well-maintained with a cache of useful info helping make it a pretty darn good value! Cherry Blossoms also offers help arranging to bring over fiancés and offers a 1-800 phone number if you need help. Read the full review