Singles List - About Brazilian Women and Girls From Brazil
Everyone has heard of Carnival, and that gigantic Mardi Gras party is likely your first image of Brazil. Maybe you also know a little about samba dancing, bossa nova or tropicalia music. These art forms, which have their origins in Brazil, are now popular all around the world. But without doubt the one thing you certainly know about Brazil is how beautiful Brazilian women are. You have gawked at supermodels like Gisele on the cover of magazines, and are intrigued by these gorgeous Brazilian beauties. Even Brazilian singers, including Maria Rita and Bebel Gilberto, who have received international acclaim for their voices and music are just additional examples of the incredible looks and charm that Brazilian women offer.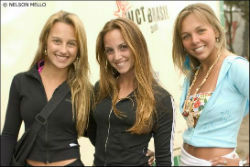 Often I get the question: is there a reason why such an amazing concentration of stunningly beautiful women all come from Brazil? Sure it's a hot country and you expect some exotic women, but why so many? The answer is actually historical: Brazilian women (and the men, too, of course) are descendants of several cultures and races, including the Portuguese, Africans, and the multitude of indigenous tribes that long populated Brazil. These Brazilians combined more recently in the twentieth century to include immigrants that traveled from other Latin American countries, as well as Germany, Italy, Japan and China. That astounding mix has produced a multitude of colors in Brazil, so many in fact that the most recent Brazilian census discarded the usual 'race' check box and allowed participants to write in their own color. Brazilian men and women responded with over 100 categories of answers: everything from "coffee" to "caramel" to "milk chocolate." Does this make Brazilian women sound even more delicious? Perhaps, but it makes the visual reality all the more appealing: Brazilian girls have an exoticism to them that no other group of women in the world, no matter how gorgeous, can compare with.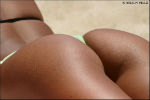 The first place men head to in Brazil to see Brazilian women is the beach cities. Places like Rio de Janeiro, Recife, Salvador, and others are simply amazing destinations to watch Brazilian girls "in the wild." Women in Brazil are always in good shape and are certainly not shy about showing off their stunning bodies. This is typified by the Brazilian string bikini, a thong locals actually call "fio dental" -- literally, dental floss! But don't let this amazing show of breasts and ass fool you. Brazilian women are actually quite modest once you begin to study them (and I know you will!). For instance, despite the fact that Brazilian girls are showing off most everything in these thongs, you won't see a topless woman on the beaches of Copacabana or Ipanema. Nude beaches are not common, and are always in designated, remote locations. Brazilian women actually take pride in their tan lines, and the contrast of light and dark is a mark of beauty in Brazil.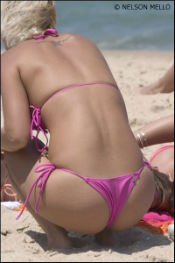 While American girls try in vain to mimic Brazilian fashion and beauty, they rarely pull it off. This is because women in Brazil have an elegance that cannot be mimicked so easily. Brazilian women have honest charm and grace, smiles that truly light up a room, and a "carinho" (gentle caring) that they share only with men they really care about. Becoming the lover or boyfriend of a Brazilian girl is an amazing blessing and joy.
What else can be said about Brazilian women and their attitudes toward love and relationships? Brazilian women are generally optimistic and easygoing girls. They love life about all else, and are almost always smiling, having a good time, singing and dancing. It seems like life's many problems hardly affect Brazilian women because of their engrained belief that good news is always just around the corner. They balance this playful optimism with a very profound compassion for others, especially for close friends and family. When in a committed relationship, Brazilian women are incredibly loyal and honest. That doesn't mean they don't like to have fun. Young Brazilian girls are known to experiment with several "small loves" before settling down. But once a Brazilian girl finds her soul mate, she is committed to marriage and expects you to love her passionately. A Brazilian woman is above all a sensual person, affectionate and loyal, intriguing and desirable in every way. Giving her your love will be returned to you ten times over!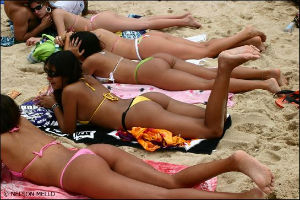 Winning the heart of a Brazilian women is easy if you go about it the right away. Being honest, manly and charming will all win you points. But perhaps the most important trait is a sense of humor. Brazilian women love to laugh, and they love to feel pride in their lover. Brazilian women therefore also highly respect education, men who show responsibility and authority in their careers, but men who, at home, are soft and lovable. It's no secret that Brazilian women are intrigued by men from other countries, especially those that come to Brazil, or show a very honest interest in Brazilian culture. Learning just a few words in Portuguese, or humming the tune of a Caetano Veloso song are guaranteed to win a Brazilian woman's heart.