A Foreign Affair Dating Site Review - Meet Russian, Latin, or Asian Women, take your pick!
Site Link : A Foreign Affair
The world is immense, gigantic! And meeting the right foreign lady can be like looking for a needle in a mountain of hay, not an endeavor to try solo or with just any international dating site with limited capabilities or experience. Since 1995, A Foreign Affair has been successfully connecting hundreds of thousands of men with the woman of their dreams. We've found that they know their business inside and out, and they have a proven system for reaching your goal: meeting your perfect mate. And that is no laughing matter! In fact, I can testify that this company does not fool around when it comes to finding you ideal opportunities for companionship, romance or marriage. After all, I'm an Editor and critic but I'm also a patron. Yes, I've personally found my beautiful Colombian sweetheart with the help of A Foreign Affair!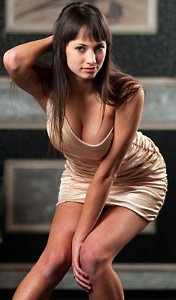 Recognized for outstanding services by New York Times, Time Magazine, 60 Minutes and Inside Edition, A Foreign Affair still offers unparalleled ways to meet good foreign women. We did our homework ourselves, and A Foreign Affair currently remains at the top of their game, with some minor exceptions, offering superior international dating services that only sympathetic business operators could achieve. Indeed, three principles of this Phoenix, Arizona company; John Adams, Ken Aggee and Ron Redburn are each married to foreign women themselves.
In addition to customary online dating profiles, A Foreign Affair offers many unique services such as its industry-famous concentration on exclusive romance tours. Tours offer a superb way of to meet dozens of hot women in a single meeting! There are many different tours to choose from too! We were truly impressed! Sign up for an exclusive tour in a specific location such as Eastern Europe, Russia, China, the Philippines or Latin American countires such as Colombia and Peru.. Once at your chosen destination, A Foreign Affair takes excellent care of you by bringing you to your accommodations, which they set you up with beforehand! You are fully covered – they even provide translators for easy communications and have nearby tour offices in every city that they offer tours.
"Definitely the best of all I have been to. I really like the idea of there being the same number of tables as guy. Each guy takes a table and about every 15 minutes Sandra rings a bell and the guys move to another table. Helps all the girls get a little time with all the guys and helps guys like me who struggles approaching women even in this type of situation get around to all the girls. The girls far exceed the profiles. These woman are definitely more attractive in person. This may work out after all. Catch you later."

Terry B,
Colorado
| | |
| --- | --- |
| A Foreign Affair | The Platinum membership is the best deal at $95 for the first month and $29.95 each month thereafter. That gets you up to 100 addresses of the ladies of your choice each month and discounts on translations. You can order virtual addresses a la carte if you choose for $12 each (or $9.00 if you order 3 or more. ) 600 - 1200 ladies are added to the database monthly. Romance Tours - From $1,600 to $5,000 depending on city and country. |
The centerpiece of these romance tours are the three highly-entertaining socials that are held where dozens of sexy ladies are invited, including any girl you connected with prior to departing for your once-in-a-lifetime adventure. And A Foreign Affair has a fat database of slender women from multiple regions to choose from!
Finding romance or an online bride with A Foreign Affair is ultimately a good place to start with thousands of women of all types posting photos and profiles to peruse. View Russian and Ukrainian women, ladies from China or the Philippines, Latin American girls from Colombia, Costa Rica and Peru... Get this - you may also search women by profession – try looking up professional models, entrepreneurs, doctors or lawyers!
While A Foreign Affair has some of the best services insofar as dating sites are concerned in the business, they do have a few issues. Overall, they are a well-established company that has years of experience matching Western men with delightful foreign brides. However, we promised to give you the good and the bad and the ugly. A couple of things about A Foreign Affair's website that bugs us are the look and feel of the site. They have not changed the design of the site for over a decade! And the site is a little ugly with over 300 outbound links. Which link to click on first? Well, do not be fooled by appearances, once you navigate away from the index page it is much easier. Not a major drawback but we would like to see a more organized index page.
A Foreign Affair is overall a very good and safe option that really delivers! I am telling you from personal experience: there is something mystifying and eye-opening about flying over jungle-rivers or far away mountains, traveling to a foreign country to meet a beautiful woman that may possibly become your bride someday. It was like a dream, a lovely dream that came true and it has never stopped coming true for me ever since. You can discover that kind of real magic too, just as I have, by joining a site like A Foreign Affair, run by real people that will offer anything they can do to connect you!